Welcome
Thank you for your interest in the Department of Hospital Pharmacy and Pharmacology at Asahikawa Medical University Hospital.
Mission and Vision
Our mission is to provide optimum pharmacotherapy for patients through innovative and advanced pharmaceutical approach. We seek to provide high-quality pharmaceutical care and work collaboratively in multidisciplinary team to meet the diverse need of patients. We also collaborate with community pharmacies to achieve a seamless care pathway for patients who transfer from hospital to the community setting. We will continue to endeavor and utilize our professional expertise to make positive contributions to the healthcare.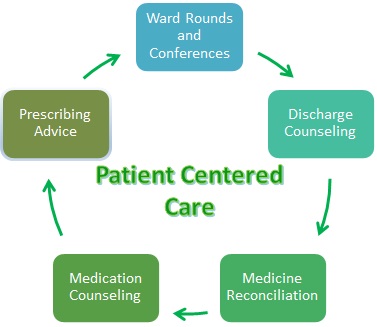 History
The Department of Hospital Pharmacy and Pharmacology was established following the opening of Asahikawa Medical University Hospital in 1976. Since then, we are consistently evolving to better serve our patients. Over the last three decades, we have developed and adopted innovative technologies and services.
Some of the highlights are;
1990: Introduction of Computerized Prescription Order Entry System
1992: Installation of Automated Dose Dispensing System
1999: First national university hospital to allocate pharmacists on wards
  Automation of Ampule Dispense
2003: Commencement of Medicine Reconciliation for inpatients
2008: Pharmacist Support in Operation Theater
2011: Prescription entry support by pharmacists based on PBPM (Protocol-based Pharmaceutical Management)
2018: QR (quick response) code embedded prescription to store laboratory data
Pharmacy Services
Being an integral member of the healthcare team, we are responsible for providing
Dispensing services
Ward pharmacy services
Outpatient counselling services
Medication Reconciliation
Drug Information services
Aseptic dispensing and compounding
24 hours anticancer injection drug mixing
Drug distribution and stock control
Therapeutic Drug Monitoring
Adverse effect monitoring
Management of drugs in Clinical Research Support Centre
Develop policies and procedures for rational drug use and pharmacotherapy therapy in collaboration with other health care professional
24 Hours Pharmacy Services
The department provides 24 hours of pharmacy service including on weekend and public holidays. As for the outpatient services, the main outpatient pharmacy starts from 8am to 6pm.
Education & Training
We foster an environment designed to advance knowledge and enhance professional development of our staff members. All staff within this department are encouraged to participate in conferences and to publish research-related articles in academic journals. For those staff wanting to pursue further in their academic careers, we support and mentor them to gain PhDs and specialist qualifications. We have our own laboratory facilities and encourage basic research as well as pharmaceutical research. We provide in-house lectures to nursing and medical staff. We are also engaged in educating pharmacy students as an approved provider of clinical placements for pharmacy schools around Hokkaido.
Current certification/specialization acquisition status of our pharmacists;
– Japan Pharmacists Education Center
Practical Training Teaching Pharmacist
– Japanese Society of Hospital Pharmacists
Board Certified Pharmacists in Oncology Pharmacy (BCPOP)
Board Certified Pharmacists in Infection Control Pharmacy Specialists (BCICPS)
Board Certified Pharmacists in Infection Control Pharmacy (BCPIC)
Board Certified Pharmacists in Pharmacology during Pregnancy and Lactation (BCPSPPL)
-Japanese Society of Pharmaceutical Health Care and Services
JSPHCS-certified Pharmacist Specialist
JSPHCS-certified Pharmacist
JSPHCS-certified Senior Oncology Pharmacist (JSOP)
JSPHCS-certified Oncology Pharmacist (JOP)
-Japanese Society of Clinical Pharmacology and Therapeutics
Board-Certified Supervisor Clinical Pharmacologists
Board-Certified Clinical Pharmacologists
Board-Certified Clinical Research Coordinator (Pharmacist)
-Japanese Society for Parenteral & Enteral Nutrition
Certified Nutrition Support Team Therapist
-Japan Association for Medical Informatics
Healthcare Information Technologist (Healthcare IT)
-Certified Board for Diabetes Educators in Japan
Certified Diabetes Educator of Japan (CDEJ)
-Japan Society of Developmental Pharmacology and Therapeutics
JSDPT JPEC Certified Pharmacist in Pediatric Pharmacotherapy
-Japanese Society of Pharmaceutical Oncology
Accredited Pharmacist of Ambulatory Cancer Chemotherapy (APACC)
(as of 2018.01)
Our department is board-certified to provide the trainings for the followings;
-Japanese Society of Pharmaceutical Health Care and Services
Pharmacist Credentialing Program
Specialized Pharmacotherapy Certification
Oncology Specialization Certification
-Japanese Society of Hospital Pharmacists
Oncology Pharmacotherapy Certification
-The Japanese Society of Clinical Pharmacology and Therapeutics
Board Certification Program
-Japan Pharmacist Education Center
Community/Hospital pharmacy Placements
JPEC Certified Pharmacist in Pediatric Pharmacotherapy
-Council on Pharmaceutical Education:
Hospital placements for pharmacy students
(as of 2018.01)
Contact Us
Department of Hospital Pharmacy and Pharmacology
Asahikawa Medical University Hospital, JAPAN
E-mail: pharmacydirector@asahikawa-med.ac.jp